The work presented was developed for a
Master's Degree in Design Strategies
at the Hong Kong Polytechnic University.
All figures, photographs, and visualizations were created by the designer unless referenced.
ABSTRACT


Numerous studies state that the planet and humanity are heading towards a number of severe crises in the following decade. These include ecological collapse, significant technological and scientific disruption, catalyzed by the human inability to respond to growing

'wicked problems'

. This research seeks to develop a Design Taxonomy which collates multiple concepts, theories, and methods relevant to all in the forthcoming crisis era. This Taxonomy also

endeavors

to democratize knowledge and enhance mental stamina for the future of design education and its practitioners. The result of this capstone will be further prototyped in an academic and professional context with different lectures and my professional design practice. The results and data obtained from the design framework, theoretical foundation, and Design Taxonomy will be disseminated in design activism, autonomy and communality to thrive.
Preface
In June 2019, an extradition bill made thousands of Hongkongers protest for their human rights. The motivation was love for their homeland but, most importantly, their political freedom. Their conviction inspired thousands of people, locals, and foreigners, to become activists in an oppressed scenario. Panic and crisis transformed the city. The effects of this social tension caused different behavioral phenomena in society.
This capstone was written in Hong Kong from September to December 2019. Its primary focus is to present concepts, ideas, and processes to confront future times of crisis, such as this. The Hong Kong Polytechnic University, where I accomplished this Master's in design, was severely damaged during a siege in November 2019, one of the peak moments of the manifestations.
As much as it may have affected my studies. I still stand by their cause. This capstone is also for all activists in Hong Kong because, in times of crisis, you inspired me and demonstrated that a common goal, should never be abandoned. I hope this work, and design, can inspire and give something back.
Purpose & Time - Why?


The effects of the
Anthropocene
will bring numerous challenges to the world in the following decade. "We are in the epoch of simultaneity: we are in the epoch of juxtaposition, the epoch of the near and far, of the side-by-side, of the dispersed." (Foucault, 1986, p. 1) A condition related to space, not entirely with the concept of time; affecting all cultures, civilizations, and real places. Foucault named it himself as a "crisis heterotopia," which is turning into a "heterotopia of deviation." Buchanan (2010) asks humanity to look back to "Branzi ́s dilemma" in his essay "We Are the Primitives," which suggests fundamental changes for design. These changes are unwinding in ways that few people can truly comprehend. Under this constant whirlwind of uncertainty, a new order is required.
Design is gaining recognition as a field for political action. Reconstructing it from its current perception of contributing to arts, aesthetics, and consumption. Nevertheless, current design studies and research are still failing to illustrate the ever-increasing expansion of design as a directive to the improvement and sustainment of the future (Fry, 2009).
Praxiology & Approach - What?
Design disciplines are evolving due to various factors influencing the main drivers of humanity. These factors (social, technological, economic, environmental, political, and ethical), amongst other determinants, transform design and vice-versa. Under the constant threat of an uncertain future, perhaps the guild of design education is ready to accept different, but more holistic proposals.
The Tangible Entangle
is a proposition to a
Design Taxonomy
, organizing, and categorizing different concepts and resources for Research about Design (Figure 1). This study focuses on the praxiology of democratizing design knowledge for all, not just designers;
"design is a natural human ability"
(Cross, 1999, p. 5) after all. The future of the planet rests in the hands of all humanity, not just "designers.
"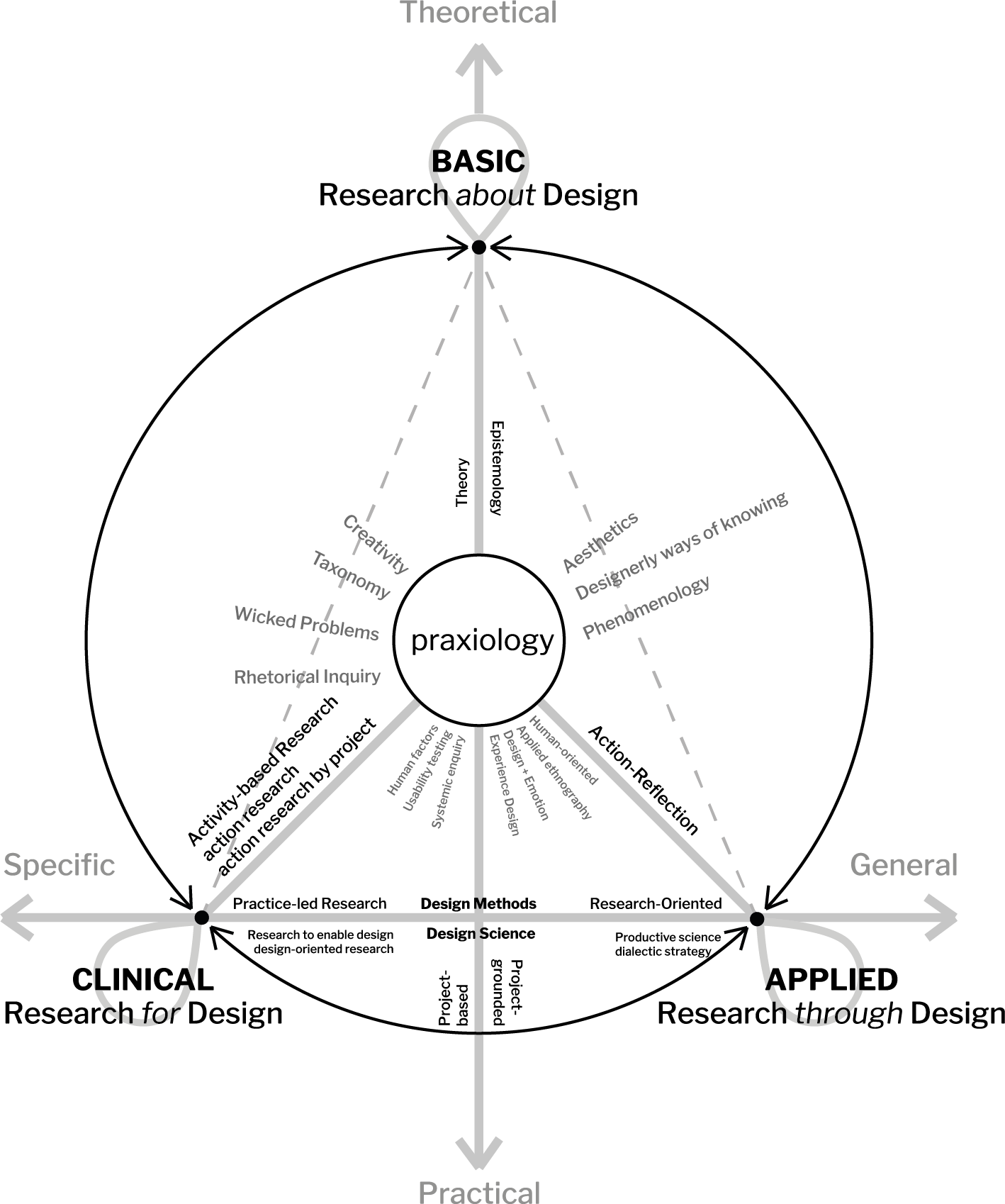 Objective & Framework - How?


Throughout the capstone, the construction of speculative realities with scientific correlations enables the articulation of a projected scenario. "A scenario is a design in itself" (Buchanan, Doordan, Jonas, & Margolin, 2010, p. 37). Speculative Design, Foresight, Backcasting, Storytelling, and Critical Design are the primary foundations for this piece of work. This future scenario results in a comprehensive study, analysis, and finally, a framework proposal to tackle 'wicked problems' with
meta-poietic flexibility
based on design's adaptability.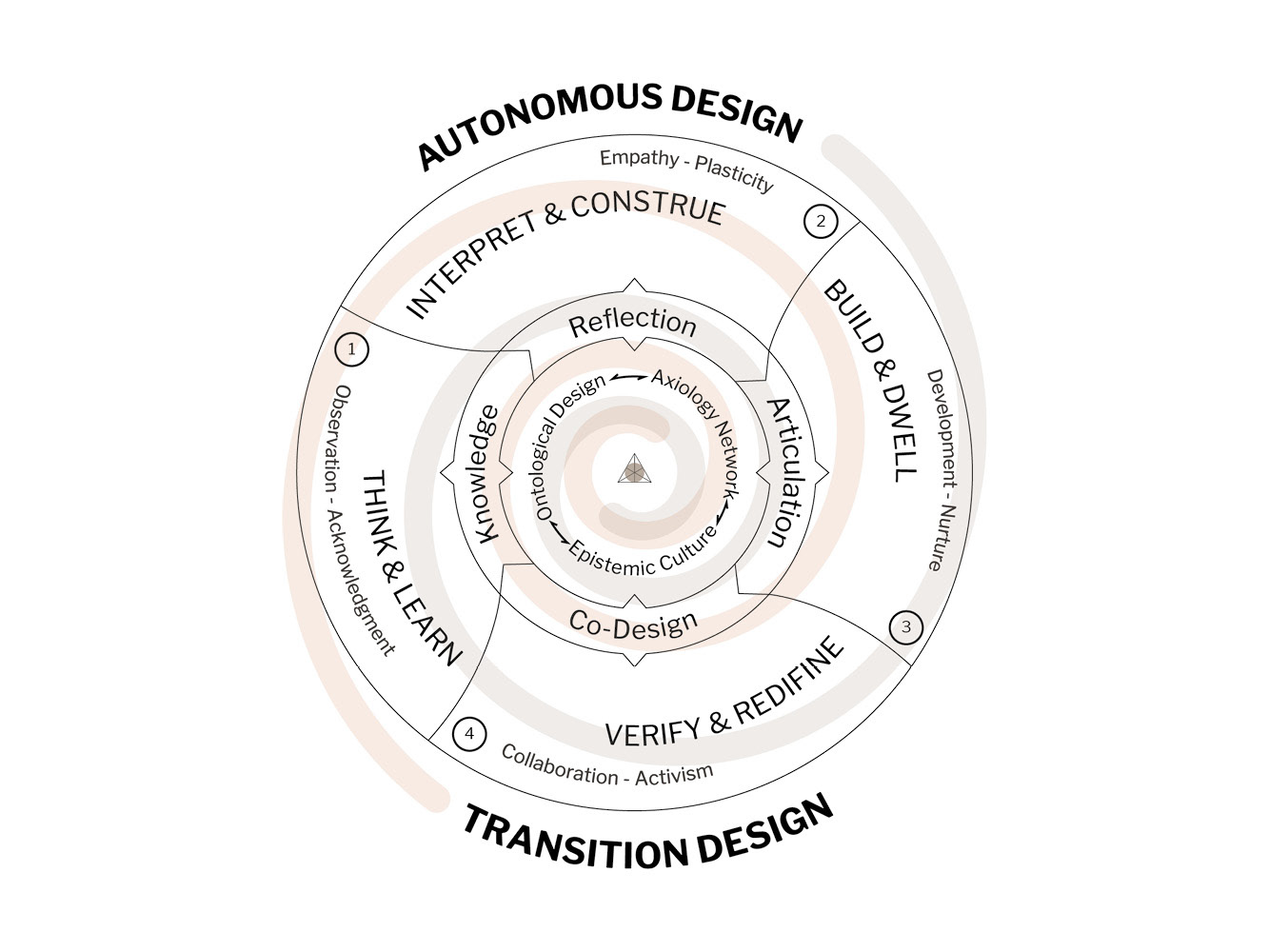 The framework (Figure 2) elaborates on knowledge gained by this secondary research, it formulates and integrates different epistemic cultures. Its ultimate purpose is to expand theory into design practice and education with the entire Design Ecosystem Model (Figure 3).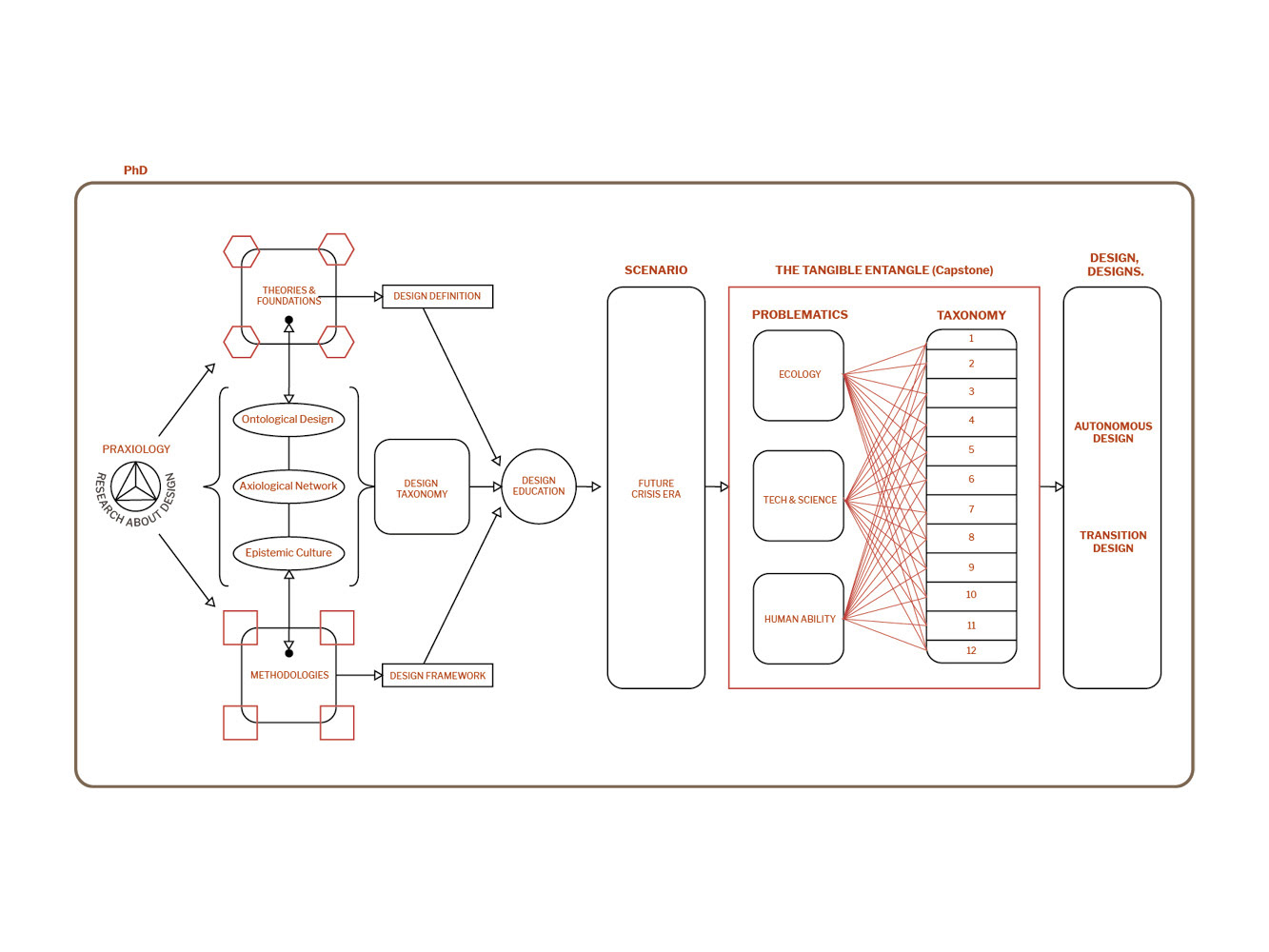 Design Education & Dissemination of the Study
"Designing designing
(Jones, 1990)
does not claim truth but universality"
(Jonas, & Buchanan, 2010, p. 37). Universality is a quality that relates to nature, it's the quality of involving or sharing communality. In this sense, design theory is stagnant. Yet, functionalism, product semantics, sustainable design, and ethical design, which once contradicted each other, suddenly articulate a new approach. Design draws upon developing human experiences, obtaining skills, and creating consciousness for its appreciation and adaptation to different surroundings. Consequently, it produces an active system (axiology network) for its dissemination in society and the planet.
The foundations of its dissemination are rooted in education. Design bridges the gap between humanities (language) and sciences (notion), Bruce Archer named it the 'third area in education' (Figure 4). "The third area is the collected body of practical knowledge based upon sensibility, invention, validation, and implementation" (Archer, 1979, p. 17-20). Education, like culture, must be dynamic (participatory), personalized, and autonomous. Moreover, learning has to be fun to engage students. Ludic Design, developed by Bill Gaver, redefines the purpose of playful exploration to change people's behavior. It creates meaning and suggests ways for improvement (Sengers, Boehner, David, & Kaye, 2005). The most valuable outcome for design education is to create adaptable knowledge that can shape active citizens.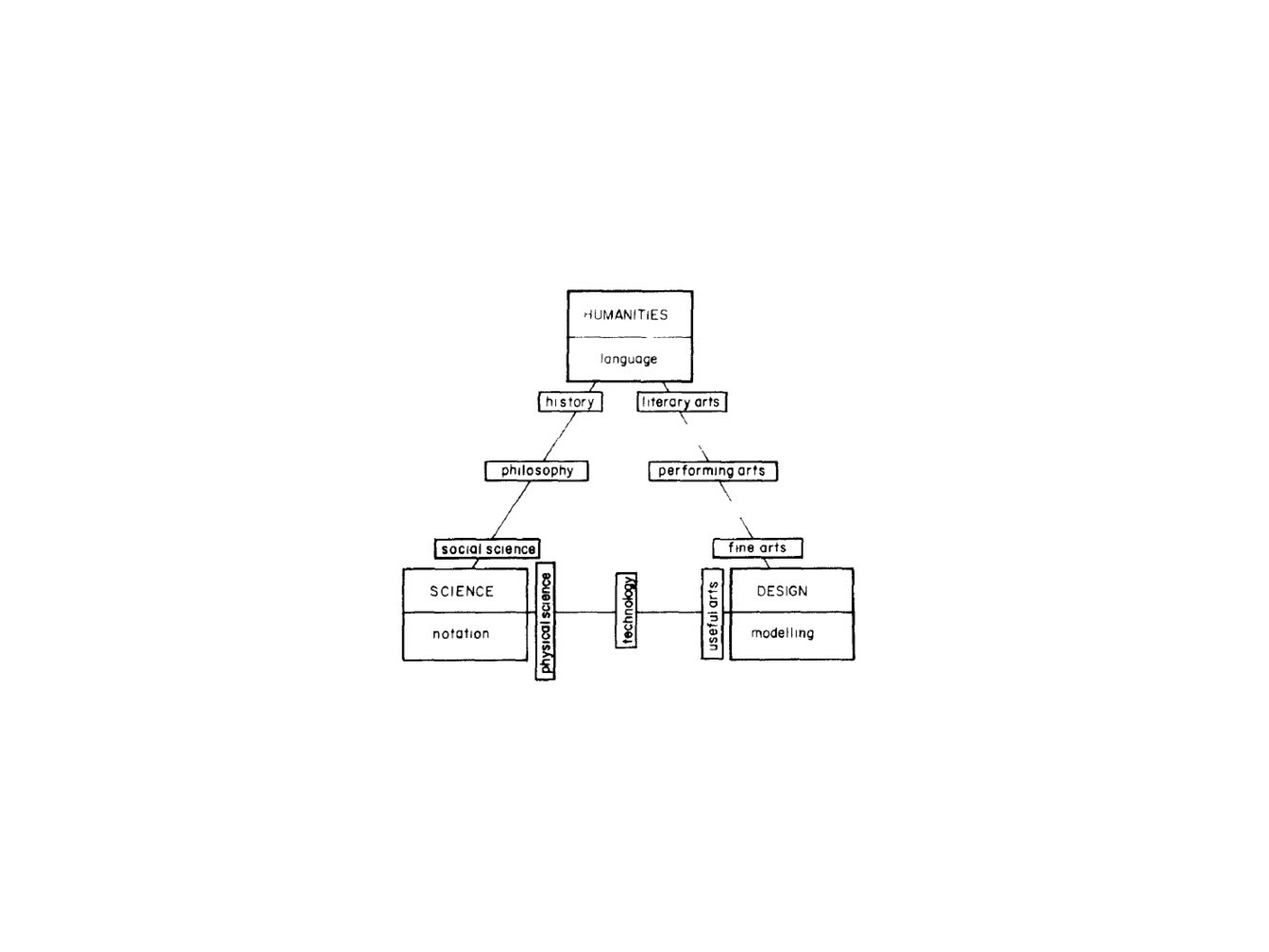 Holistic theories and sciences inspire this capstone, such as Anthroposophy, "dealing with man's constitution, role in earth and evolution" (Ullrich, 2000, p. 555-572) or Biomimicry and Ethology, focusing on the study of models, systems, and behavior from life's genius,  
"innovation inspired by nature"
(Benyus, 2002, p. 12). Many works of reference analyzed the possibilities for design's education reconstruction in time, space, and systems. Global Tools (1973-1975; Borgonuovo, Franceschini, & McGarr, 2018), is a counter-school ́s approach for understanding and contextualizing designers towards more complex networks and their connections. In addition, considering recent proposals like Transition Design for the future development of this discipline and its implementation for transformation (Carnegie Mellon University, 2019).
The future will offer opportunities that can shape new roles in a hyper-connected and 'enhanced' society. Design might be a tool for environmental and social reconstruction, or in a more realistic scenario, our final poetics.

References:
· Archer, B. (1979). Design as a discipline. In Design Studies, 1(1), 17-20.
· Benyus, J. M. (2002). Biomimicry : innovation inspired by nature. New York, N.Y.: Perennial.
· Buchanan, R., Doordan, D. P., & Margolin, V. (2010). The designed world : images, objects, environments (English ed. ed.), (pp. 1-37). Oxford: Berg Publishers.
· Borgonuovo, V., Franceschini, S., & McGarr, B. (2018). Global tools: when education coincides with life, 1973-1975. Place of publication not identified: NERO.
· Carnegie Mellon University. (2019). About Transition Design. Retrieved from https://transitiondesignseminarcmu.net/. 
· Cross, N. (1999). Design Research: A Disciplined Conversation. Massachusetts Institute of Technology, 15(Design Issues), 5.
· Foucault, M. (1986). Of Other Spaces. Diacritics, 16(1), 1. doi:10.2307/464648
· Fry, T. (2009). Design futuring : sustainability, ethics and new practice. Oxford: Berg.
· Jones, C. (1990). Designing designing. Place of publication not identified: Architecture Design & Technology Press.
· Sengers, P., Boehner, K., David, S., & Kaye, J. (2005). Reflective design. In. doi:10.1145/1094562.1094569
· Ullrich, H. (2000). Prospects: the quarterly review of comparative education. UNESCO: International Bureau of Education., XXIV, 555-572.